BODY CENTER


Does your vehicle have body damage? Perhaps you simply just want to recolor your vehicle. You can have all that and more at the Bertera Chevrolet Body Center! We are located at 1187 Thorndike St. in Palmer! The Bertera Chevrolet Body Center is your one stop shop for all of your body work needs! Come in and have your vehicle looked at by our certified and experienced technicians! Our customers deserve the best, that is why we provide them with great prices, great body work, and a great experience. Come visit us today and find out for yourself.
WHY BRING YOUR VEHICLE TO US?

Our experienced service team is trained to know every inch of your
vehicle. We know you want to feel as great about your vehicle as the day you purchased it. Our team here at the Bertera Chevrolet Body Center have the skills needed to provide the best body work in the area! Come visit us today to have your vehicle looking and feeling like new.
WHAT TO EXPECT

Our expert service advisers will walk you through the whole process with written estimates of what is recommended to complete your repair. In addition, should you require body work to return your vehicle to it's pre-accident glory, we have certified service technicians available to help! We will review your estimates with you and
address any questions that may come up throughout the process.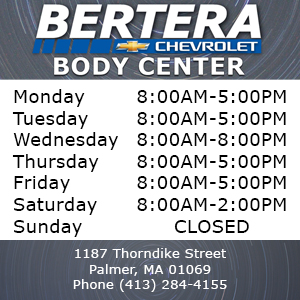 Be sure to
Like us on Facebook
Follow us on Twitter
Add us to your circle on Google+
Follow us on Instagram
Subscribe to our YouTube channel!
For more information visit our website