Before you pack up the family or pick up your friends for the first road trip of the summer be sure to prepare your vehicle for the many miles ahead! Be sure to contact your local dealership or repair shop for a summer maintenance check if you don't have the time or experience to handle these on your own. If you have any questions about the information below please do not hesitate to contact us for assistance. We would be more than happy to explain the process and parts required at your convenience.

You're due for a wheel inspection

One of the first rules of driving is to regularly check your tires year round. Consult your owner's manual or sometimes directly on the door jamb or fuel door to locate your vehicle's tire pressure. Use your hand to locate any nails, pins, glass, stones, and more from the tire's tread. It's also very important to look for any abnormal wear and cracks in the tire. Be sure to always have a spare tire, the required tools, and a can of Fix-A-Flat just in case.

Don't forget to check the belts

Normally, your vehicle should have a serpentine belt that is run between the major engine components. Over time it can begin to make noise, loosen, deteriorate, or even break. Keep this from happening by making sure to have your technician inspect this belt during every service visit. If you or your technician see pieces missing or even cracks in the belt it may be time to replace it. Consult your technician for more information.

Swap out your wipers

The summer may be fast approaching but it's more than likely going to rain eventually, right? The last thing you want is a streak across your windshield so be sure to check your wiper blades for wear. If you think it's time to change them, it probably is. Since they're generally cheap you might even be able to get your local mechanic or dealership to throw it in your service for free. Be sure to contact your repair shop or dealership for more details.

Can't live without AC

When was the last time you decided to drive on a hot summer day without the air conditioning on full blast? Since it's pretty much essential to have air conditioning during the summer we highly advise you ask your technician to inspect the cooling system and ensure there are no leaks before paying someone to have the air conditioning system recharged. If you're more of a do-it-yourselfer feel free to head over to your local department store or auto store to pick up a leak sealing product. Always consult with your technician before trying an at-home method.

No overheating for you

We've all heard the horror stories of vehicles overheating on the highway and drivers desperately searching for anything to put in their reservoir. Let's address that specific situation before it happens! While your technician is performing their multi-point inspection make sure to ask them if your coolant has been topped off. They should also perform a hose and joint check to make sure none of the components have too much wear or leaks.

Keep it topped off

With all the different colored fluids going into the engine bay it can sometimes get a little confusing. That's why you should always have your technician top of your windshield washer, power steering, oil, and brake fluids. If you see no improvements in braking or steering you may have a more serious problem that should probably be addressed by your technician or your local dealership.

Breath easy this summer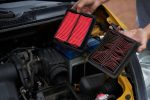 Believe or not your vehicle's air filtration system may have the same old filter in it from when you last had a complete service checkup. It's not standard practice for every automotive shop to check to make sure your air filters are clean. Instead of finding out when you're having a sneezing attack in the car check for yourself! Youtube and google are great resources if you don't feel like looking it up in your owner's manual. These are usually very cheap and very simple to install. Keep that in mind before you pay someone else to take care of this for you.

Keep it cool

Instead of leaving your car in a hot parking lot pickup a new dash cover to help keep your interior cool and to prevent fading. Preventing the vehicle's interior from getting too much sun or heat is essential to keep your interior looking like new. Rear seat shades can also protect your rear passengers from the ultraviolet rays. Not to mention it kind of sucks when you get into a hot car and accidentally burn yourself on the seatbelt.

Keep it clean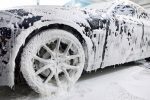 Have you ever noticed when the sun is beginning to set it sometimes becomes a lot harder to see while you're driving? This is often caused by grime buildup from lack of washing. Get your car over to your local car wash and get it cleaned. Using a quality wax can also ensure your vehicle will come out looking just like it did when you first bought it. Frequent cleanings can prevent grime buildup and streaks on your windshield.

Be prepared

Before any road trip make sure to add the essentials to your list before packing everyone up. Those include, but aren't limited to, hats, cups, sunglasses, snacks, chargers, tool kits, flashlights and more! It may not be a bad idea to leave some water in the car in case of an emergency. Lastly, make sure your tank is full and don't forget to make sure your driving credentials are all up to date.
Like us on Facebook
Follow us on Twitter
Add us to your circle on Google+
Follow us on Instagram
Visit our website
Source(s):
Banner